150 mg. Full Spectrum Organic CBD Oil For Dogs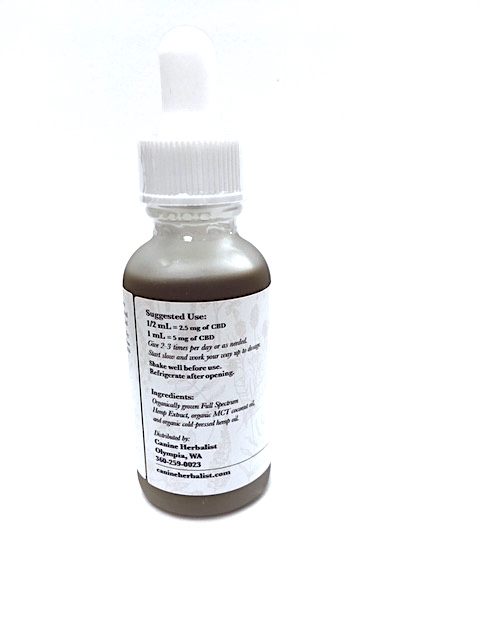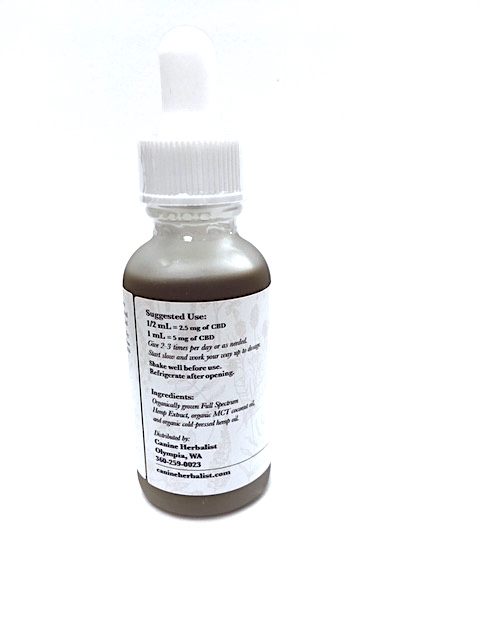 150 mg. Full Spectrum Organic CBD Oil For Dogs
150 mg / 1oz. / 30 ml / Organic Full-Spectrum CBD Oil for Dogs. Non-psychoactive.
/ For Small Dogs or General Use / Endocannabinoid System Activation
Ingredients: Organically grown Full Spectrum CBD Hemp Extract, organic MCT coconut oil, organic cold-pressed hemp oil
Non-GMO

Grown Organically

Full-Spectrum includes cannabinoids, terpenes and synergistic plant nutrients and constituents

Extracted with supercritical C02

Sustainably Grown, small-farm, eco-conscious permaculture environment

Small Farm relationship / Grown in Manitou Springs, Colorado

Directions: Shake Well and Refrigerate After Use. Put on tongue, on a treat or in food.
Dog Weight Suggested Dosage:
Weight 3-5 lbs / 1 - 2 drops / 2x daily
Weight 5 - 10 lbs / 3- 4 drops / 2x daily
Weight 10 - 20 lbs / 1/4 dropper / 2x daily
Weight 20 - 40 lbs / 1/2 dropper / 2x daily
Weight 40 - 80 lbs / 3/4 dropper / 2x daily
Weight 80 - 100 lbs / 1 dropper / 2x daily
100+ pound add additional weight as needed
+ Dosages may vary greatly / 30 full droppers in each bottle / approx. 1400 drops per bottle at 2.5 mg per 1/2 dropper or .1 mg per drop
Note: check with your veterinarian when mixing with pharmaceuticals as CBD can potentate some medications.
These statements have not been evaluated by the Food and Drug Administration. This information is not intended to be used to diagnose, prescribe or replace proper medical care. This product is not intended to treat cure, diagnose, or prevent any disease or condition.
About Hemp Fields Farm / grower
Traceability makes Hemp Fields Farm CBD high quality and effective. They control every state of the growing, cultivation and extraction process. They also use selective breeding, testing and farming practices forming a permaculture style of growing CBD-rich hemp.